Who knew that he was such a big fan of Disney cartoons?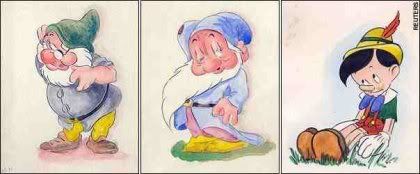 "The director of a Norwegian museum claimed yesterday to have discovered cartoons drawn by Adolf Hitler during the Second World War.
William Hakvaag, the director of a war museum in northern Norway, said he found the drawings hidden in a painting signed "A. Hitler" that he bought at an auction in Germany.
He found coloured cartoons of the characters Bashful and Doc from the 1937 Disney film Snow White and the Seven Dwarfs, which were signed A.H., and an unsigned sketch of Pinocchio as he appeared in the 1940 Disney film.
Hitler tried to make a living as an artist before his rise to power. While there was no independent confirmation yesterday that the drawings were the work of the Nazi leader, Hitler is known to have owned a copy of Snow White, the classic animated adaptation of a German fairy tale, and to have viewed it in his private cinema.
Mr Hakvaag, who said he had performed tests on the paintings which suggested that they dated from 1940, said: "I am 100 per cent sure that these are drawings by Hitler. If one wanted to make a forgery, one would never hide it in the back of a picture, where it might never be discovered."
The initials on the sketches, and the signature on the painting, matched other copies of Hitler's handwriting, he claimed.
"Hitler had a copy of Snow White," he said. "He thought this was one of the best movies ever made."
Discoveries of Nazi-era memorabilia have repeatedly turned out to be mistaken or the result of a hoax. However, art attributed to Hitler continues to sell at auction, even if its provenance is far from complete.
Nineteen watercolours and two sketches said to be by Hitler were sold in Britain two years ago for a total of £118,000.
The auction firm Jefferys said the seller did everything possible to authenticate the works.
The pictures of cottages and rural scenes were found in a farmhouse in Belgium and were believed to have been painted while Hitler was a young soldier in the country during the First World War." ~Telegraph
...AND what would have happened if Hitler succeeded as an artist?
"As a young boy he had shown natural talent for drawing. His gift for drawing had also been recognized by his high school instructors. But things had gone poorly for him in high school. He was a lazy and uncooperative student, who essentially flunked out. To escape the reality of that failure and avoid the dreaded reality of a workaday existence, Hitler put all his hope in the dream of achieving greatness as an artist.

He decided to attend the prestigious Vienna Academy of Fine Arts. In October 1907, at age eighteen, he withdrew his inheritance money from the bank and went to live and study in Vienna. Hitler's mother was by now suffering from breast cancer and had been unsuccessfully operated on in January. But Hitler's driving ambition to be a great artist overcame his reluctance to leave her.

He took the two day entrance exam for the academy's school of painting. Confident and self assured, he awaited the result, quite sure he would get in. But failure struck him like a bolt of lightning. His test drawings were judged unsatisfactory and he was not admitted. Hitler was badly shaken by this rejection. He went back to the academy to get an explanation and was told his drawings showed a lack of talent for artistic painting, notably a lack of appreciation of the human form. He was told, however, that he had some ability for the field of architecture.

But without the required high school diploma, going to the building school and after that, the academy's architectural school, seemed doubtful. Hitler resolved to take the painting school entrance exam again next year. Now, feeling quite depressed, Hitler left Vienna and returned home where his beloved mother was now dying from cancer, making matters even worse." ~The History Place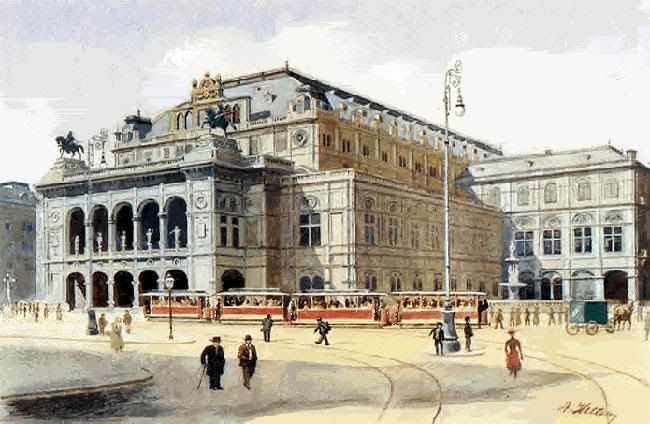 Self-portrait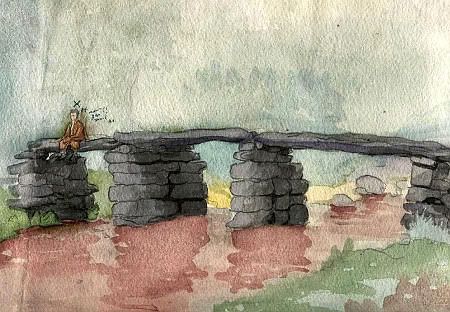 Hmm... Hitler had a good sense of proportions and architectural design, but overall most of his artworks stink of mediocrity because they lack creativity... He was simply trying to
COPY
what he saw,
NOT
trying to capture
HOW
he saw his surroundings. (To put it simply, his works are extremely boring to look at. They're so generic, nothing really special about it. However I have to admit that he had the talent and the ability to draw. He wasn't a genius although he thought he was...) If he was under good guidance, I think he could have been a great artist.
More artworks by Hitler:
Snyder's Treasures